Description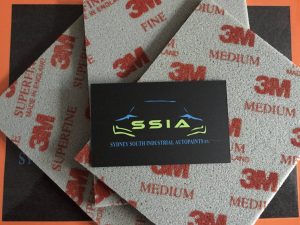 3M™ Softback™ Sanding Sponge, 140mm x 115mm x 5 mm, Super Fine-03810
Details
Flexible foam pad enables user to sand hard-to-reach areas such as headlight openings, around door handles, door jambs, etc. Helps to eliminate finger marks and can be used wet or dry.
Ideal for dry or wet sanding of wood, paint, metal, plastic and drywall. When finished, simply rinse and reuse. Conformable, comfortable, flexible and convenient. The full thickness medium sponge is perfect for preparing old bottom paint for a new coat; used wet, it keeps the air clean of dust.
Flexible abrasive coated foam sheets
Enable users to sand hard-to-reach areas
Help eliminate finger marks
Can be used wet or dry
Versatile sanding sponges work on many surface materials

Details

3M offers a broad selection of sanding sponges with different features and densities for both flat and contoured surfaces. Ideal for corners, contours, sealer and flat surfaces on wood, metal, plastic and paint.

3M™ Softback Sanding Sponges are coated with aluminum oxide mineral. Each grade uses a range of mineral sizes. Super fine ranges from grade 500 to 600.