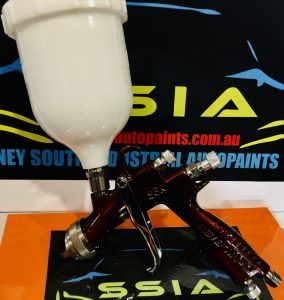 S
Modern, light and comfortable, the SGK-600-PR with the 2.0mm tip set up spray gun is ideal for those needing a professional quality gun offering a finer finish, at an economical price.
The new SGK range offers you a number of refinements and great performance from an economically priced gun.
Controls for fan, atomizing air and fluid are all on the gun, meaning operators can adjust he gun to obtain the very best finish whilst right at the job. Each controlling knob is knurled for sure grip – even when wearing gloves – and permanently marked to ensure you can repeat preferred settings, time after time.
Includes 1 x SGK PRIMER gun, a set of replacement seals, a seal replacement tool and full instructions!
Air Consumption:     9,8 cfm
Atomisation Air Connection:     1/4
Maximum Air Pressure:     32 psi (2 BAR)
Maximum Fluid Delivery:     SGK 600 – PR 270 l/min
Pot / Cup Capacity:     600 ml
Weight:     450 grams (Gun only)
Working Distance:     10″ fan pattern at 7″