DEVILBISS SLG-G620 1.3MM GRAVITY SPRAY GUN WITH 600 ML POT NEW !!!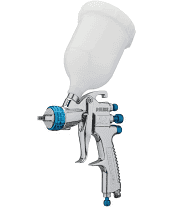 Starting Line 620 general purpose compliant spray gun replaces the SGL-610 and is suitable for a wide range of automotive refinish paints.
The lightweight and strong gun body has an ergonomically shaped handle for positive grip and conform with a smooth action trigger and accurate controls for fluid flow and pattern shape.
The precision engineered brass air cap provides excellent atomisation of the most popular, conventional automotive refinish materials.
Fitted with a tough mylon 600ml cup, the SLG spray gun kit also includes a removable paint filter, a cleaning brush and universal spanner for easy cleaning and maintenance.
Air Inlet Pressure: 2.0 Bar
Air Consumption: 250 l/min (8.8 cfm)
Air Inlet Thread: 1/4″ Universal
Cup Capacity: 600ml
Weight: Gun 480g – Cup 160g
Air Cap: Brass – Nickel Plated
Retaining Ring: Anodised Aluminium
Fluid Tip: Stainless Steel
Fluid Needle: Stainless Steel