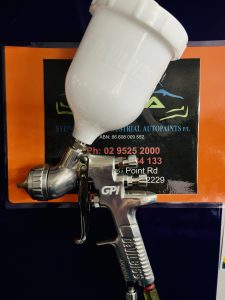 DeVilbiss GPi General Purpose Spray Gun
Every bodyshop has a need for a General Purpose spray gun. Some relegate a worn out or cheap gun to these duties and generally, finish quality and reliability suffers, often leading to expensive re-work.
Now DeVilbiss is offering a cost-effective alternative enabling bodyshops to benefit from i-system standard atomisation and performance at a price every bodyshop can afford.
The DeVilbiss GPi spray gun comes with the specially developed GP1 "High Efficiency" air cap and a choice of 1.4, 1.6 or 1.8mm fluid tips designed to spray a wide range of materials including enamels, synthetics, primers, 2 pack commercial paints as well as materials that demand high or fast application rates.
The forged aluminium gun body is virtually identical to the legendary DeVilbiss GTi Pro and instead of being anodised, features the traditional polished finish therefore keeping costs down, while maintaining optimum performance and comfort.
Technical Specifications
DeVilbiss GPi General Purpose Spray Gun
Specification and Technical Data
Air Supply Connection Universal: 1/4" BSP and 1/4" NPS male
Air Inlet Pressure: 2.0 Bar inlet (29psi)
Air Consumption: 270 l/min (9.5cfm)
Cup Capacity: 560 mls
Weight (gun & cup): 683g
Air Cap: Plated brass
Fluid Tip: Stainless steel
Fluid Needle: Stainless steel
Materials
For use on the materials below:
Primer
Base Coat
Clear Coat